With many bold headlines out there, we look at the implications of the Coronavirus pandemic and the potential next steps for the UK property market.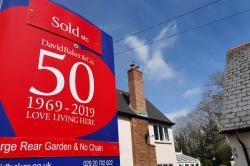 Many major media outlets are today reporting that the property market has been shut down by the UK Government. One example being here from the Guardian. Guardian Article. This explains that the Government have started to expand on their lockdown instructions by giving guidance to those in the process of moving. Despite the alarming headline, the article points to specific sections of Government advice, such as asking buyers and seller to adapt and be flexible in order to agree new moving dates at a more convenient time. This sounds very sensible and providing all parties in the chain want to work to the same goal, there is no reason why ongoing sales such fall through. The government points out that there was no need to pull out of transactions but both parties should try to agree a new date unless the property is empty, and that banks and lenders should play their part by extending mortgage offers where possible. Of course, homeowners should allow no visitors to their homes for viewings or valuations and this is something that we would wholeheartedly agree with. Your safety, and the safety of your family and friends as well as our team is of paramount importance.
As an independent, family run estate agent, David Baker & Company pride ourselves on being small enough to be flexible and adapt quickly to the constantly changing landscape and give our clients the best advice possible to our clients. We are now fully working from home, and the market is on hold, but we are expecting things to get moving fairly quickly when this is over and restrictions are lifted.
We recommend that any home currently on the market remains on the market, so that you maintain a visible presence online. Of course, if it suits you to remove the property from the market for personal reasons then we would support you in that. Potential buyers may still be keeping an eye on the market and we are able to arrange remote viewings where possible.
For those wanting to explore their options, we are able to offer remote valuations either through a desktop report or using a video call servic such as WhatsApp, Facetime or Zoom – as with all our market appraisals, remote valuations are free of charge and come with no obligation.